ALL ORDERS
Due to provincial regulations, our beer can only be shipped within ONTARIO. All standard delivery orders will be shipped via Canada Post and can only be delivered once a valid 19+ government-issued photo ID is presented.
Niagara Brewing Company Craft Beer Delivered to your Home!
We are excited to introduce a safe and convenient online option to purchase our craft beer. 
Enjoy our craft beer at home in 3 easy steps: 
1. Place your order online 
2. Pay in full by Credit Card
3. We can ship to your home from Niagara Brewing Company!
PLEASE NOTE: You must be 19 years or older to purchase alcohol.  Photo ID will be required at delivery.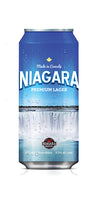 Niagara Premium Lager
Award Winner - Canadian Brewing Awards Gold Medal
4.5% alc / 28 IBU
Niagara Falls is celebrated for its natural beauty and force. Our Niagara Premium Lager has been crafted in honour of its awe-inspiring power. This thirst quenching lager offers a clean-drinking, medium bodied brew. Distinguished by malt sweetness and a cascade of citrus flavours, it's as impressive as the Falls themselves. 
BUY NOW
Honeymoon Peach Radler
3.5% alc / 3 IBU
Locally sourced and made with love. Niagara Falls is know as "The Honeymoon Capital of the World" and this Honeymoon Peach Radler is crafted as a tribute to all of our newlywed visitors. With an airy malt sweetness, touch of ginger and a pleasant Niagara peach finish, you'll feel refreshed and more in love with every sip.
BUY NOW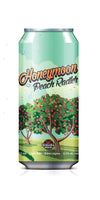 Beerdevil IPA
6.5% alc / 62 IBU
Since 1859 countless thrill seekers have taken on the thundering waters of Niagara Falls with devilish style. We've channeled this fearlessness into our Beerdevil IPA. Blending a high hop aroma and caramel-like, toasted malt flavour, it's bold and bracing like the daredevils it honours. It proves that risk is definitely worth the reward.
BUY NOW
Niagara Irish Red Ale
4.7% alc / 21 IBU
Unlike her cousin Amber from the North, Niagara Irish Red Ale aka Ruby Red is full of toasted malt allure. She is a classic dark red with distinctive malt flavours. Sweet hints of caramel, buttery toffee and biscuits make this red a well-balanced, easy-drinking pint.
Buy Now
Niagara Icewine Beer
9.7% alc / 1 IBU
Our Niagara Icewine Beer is a limited-edition brew that blends the sweet intensity of Niagara's famous Icewine with the delightful carbination of our award-winning Niagara Premium lager. The result is an elegant craft beer with flavour that will be appreciated by both beer and wine lovers. 
Sold Out
Beer Can Koozies
Show your love of Niagara Brewing Company with a signature Beer Koozie. The perfect complement to your favourite craft beer, our Koozie is made of scuba-foam to insulate the can and preserve the temperature. It also makes a great gift or souvenir!
BUY NOW
Niagara Brewing Company Beer Glass
A Niagara Brewing Company souvenir pint glass is a must have for craft beer collectors. Available in two sizes, it features our logo on the front and proudly exclaims "Drink Craft Beer" on the back. A perfect addition to your home bar! 
BUY NOW